Operating an ASA-AMOffice© server on a server system of a web hosting provider
Info: We are happy to offer you the support of ASA-AMOffice © on a server provided by us.
Just talk to us.
An ASA-AMOffice© server can be installed, on a server system of a web hoster such as 1&1, Hetzner, Host Europe or Strato.
Following ports must be enabled in the server's firewall like a private network:
787: (Standard-) Port to access the ASA-AMOffice© service

1433: (Standard-) Port of the Microsoft SQL Database
Furthermore, either the complete domain name or the (static) IP address has to be used in order to address the server system. The following login screen illustrates how such an address is entered: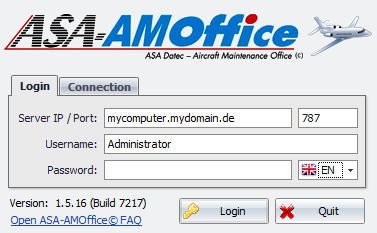 Also the complete address for the database must be configured in the ASA-AMOffice© server. Therefore, start the Server Management tool. In the tab Server Settings, press the button Search Database. From the search screen, select the option to manually enter the server name. Enter here the complete address of the server. Check the connection string, after the form is closed.
Example: